Omaha's Best Jewelry Repair!
With more than 50 years of experience in custom jewelry and design, you can rest assured your jewelry is in the best care here at 14 Karat.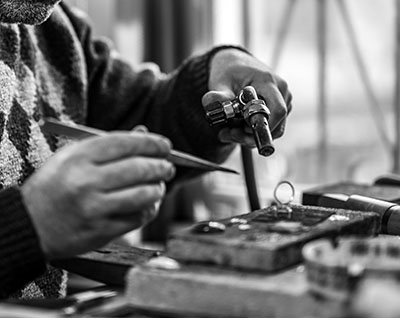 Our jewelers ensure that your favorite jewelry piece or heirloom can be worn with pride and not stuck in your jewelry box because it is in need of a repair. We offer fast, reliable and dependable repairs for all of your custom jewelry needs.
Quality Jewelry & Watch Repair Service
We offer quick turnaround times for your jewelry repair and will give you a comprehensive jewelry cleaning, prong re-tipping, and pearl or bead restraining. We guarantee your jewelry piece will be restored to its original luster.
We repair rings, earrings, pendants, chains, pins, bracelets, even the items that seem impossible. We also repair costume jewelry, watches, and eyeglasses.
Free Steam Cleaning
If an item in your jewelry box needs some updating we provide jewelry cleaning. We'll work with you to offering you a full range of professional jewelry repair, refinishing and refurbishment services that make it easy for you to recapture the pleasure your jewelry was meant to bring.
14 Karat offers an extensive range of jewelry repair services in Omaha for gold, silver, and platinum jewelry, including:
Sizing rings (up or down)
Setting diamonds and gemstones
Repairing prongs and channels to hold gems securely in place
Soldering engagement and wedding rings together
Rhodium plating white gold jewelry
Restringing pearls and beads
Replacing clasps
Repairing broken chains
and more!
Contact us today to schedule your free jewelry & watch repair consultation.